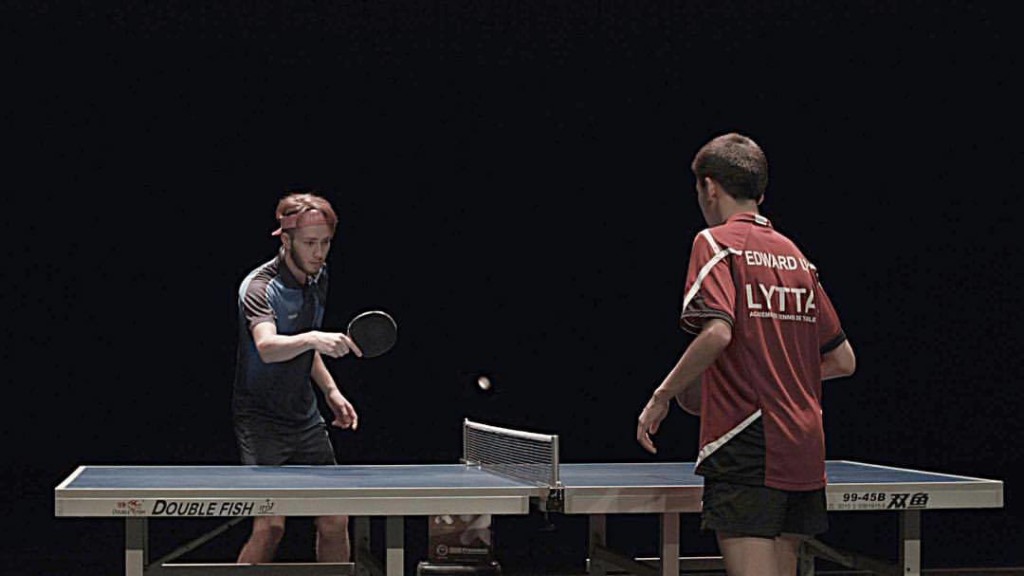 2 Performers, variable length, 30 – 300 spectators
_ Try to keep the ball going as long as possible.
_ Modulate speed in order to make the exchange sustainable.
_ Stay interested.
_ If you miss the ball, it's okay, just keep going.
Created with artist Simon Grenier-Poirier, Speed Glue is a cooperation with two professional table tennis players. Rather than playing to win points and end the game as quickly as possible, the players work together to keep the ball going for as long as they can. By setting aside the competitive structure of the game, a new range of rhythmic and choreographic possibilities emerges, as well as a different relationship to duration and effort.
"In its possibilities, Speed Glue counters the institutional dramatics and emotional histrionics of so much performance art with a supple spectatorship that studiously avoids the ironic." – Joseph Henry (Canadian Art)
Credits
Concept and Direction: Simon Grenier-Poirier and Dorian Nuskind-Oder
Performance: Antoine Bernadet and Edward Ly
Coach: Pierre-Luc Theriault
Presentations
THE CURRENT SESSIONS, VOL VII: On Resistance (August 20, 2017)
Galerie UQO, Trilogie Electoral 1 (October 20, 2017)
Musée d'art contemporain des Laurentides, Trilogie Electoral 2 (November 4, 2017)
Residencies
fabrik Potsdam (CALQ Studio Residency)
Centre Chorégraphique O Vertigo
Publications
Henry, Joseph. "Set and Match." Canadian Art, November 14, 2017
Grenier-Poirier, Simon and Dorian Nuskind-Oder. "Neither bigger balls, nor slower glues." Le Merle 5, no.1 (Winter 2017): 77-82.